Preparing your talk
The talk sessions include time for questions from the audience, so please take this into consideration when preparing your talk. For example:
| Total Time | Talk Time | Questions Time |
| --- | --- | --- |
| 20 minutes (Selected Speakers) | 15 minutes | 5 minutes |
| 30 minutes (Invited Speakers) | 25 minutes | 5 minutes |
| 60 minutes (Keynote speakers) | 50 minutes | 10 minutes |
If you are interested, read here for general tips and advice on preparing a presentation
Audio-Visual & Computer Equipment
All session meeting rooms are equipped with the following audio visual equipment:
LCD projector
Computer running Windows 10 and Office 365.
Laser pointer
LCD monitor at the lectern (with keyboard, mouse, and an easily accessible USB port).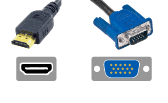 Should you wish to use your own computer to deliver your presentation, it must be capable connecting to either a standard HDMI cable or a VGA cable, both of which are supplied from the lectern. If your computer requires an adapter or a dongle to connect to standard HDMI or VGA ports, please remember to bring the dongle with you.
We will have roaming microphones to take audience questions.
If you require any additional capabilities, no matter how basic, you must contact an organizer as soon as possible to determine if arrangements can be made to accommodate your needs.